Pre-construction Soil Poisoning Johannesburg
What is Soil Poisoning?
Soil poisoning Johannesburg is a preventative termite treatment commonly used within the construction sector. Often referred to as Pre-construction soil poisoning, the process involves strategically spraying the soil surrounding the buildings foundations.
The SABS / SANS building code of practice states that the foundations, trenches, surface beds and bases of a building must be termite proofed before concrete is cast in the pre construction phase of the building. This type of termite treatment process creates a barrier between the ground and the building itself and prevents a termite infestation arising.
A typical standard treatment plan comes with either a 5 or 10 year treatment certificate and is backed by Termicon's service guaranty. Annual top up treatment is recommended to prolong the effectiveness of this type of pre-construction termite control.
Soil Poisoning Treatments
Trust TERMICON
100's of construction companies, surveyors and property developers across the Johannesburg and Gauteng regions trust TERMICON to deliver certified soil poisoning treatments as part of their streamlined project work flow. We service all pre-construction pest control in the following areas:
Benoni, Boksburg, Alberton, Randburg, Sandton, Fourways, Sunninghill, Bryanston, Midrand, Waterfall, Kyalami, Kempton Park
For a fast, FREE quotation call 087 551 0558
Soil Poisoning Services
Termite treatment is one of the most important steps in the building process. Make sure your up to code and contact TERMICON today. We're highly rated as one of the best soil poisoning companies in Johannesburg.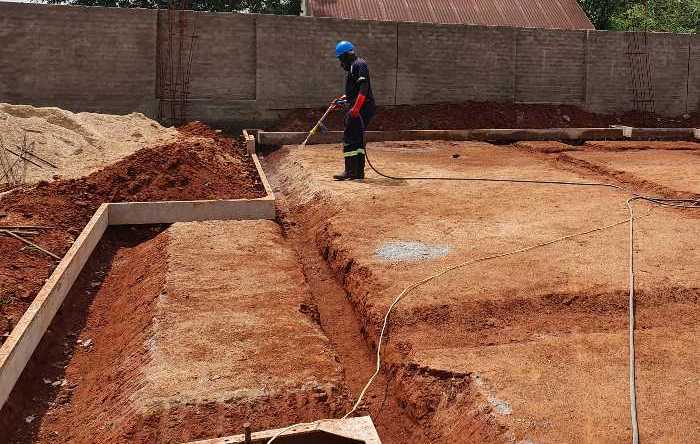 21 Years Experience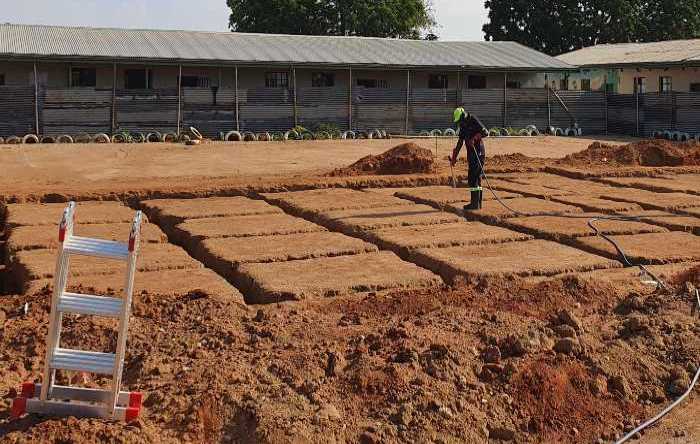 19,000+ Completed Projects
Why use TERMICON?
19 years industry experience
over 19,000 successfully completed projects
Registered with Department of Agriculture (Act.36/1947)
SANS 5859 / SABS 0124 & 1164 & 1165 Compliant
BEE Level 2 Compliant
Pre & Post construction soil poisoning treatments
When is termite proofing
required?
All types of building structures can become a food source for termites regardless of construction type. Homes, office buildings, apartment blocks, storage areas and warehouses are all susceptible to termite infestations if the proper treatments & processes are not deployed pre and post construction.
Soil poisoning Johannesburg should be carried out in the pre construction phase of a building project in line with the SABS / SANS building codes of practice. Correctly treating the soil surrounding the foundations of the building will ensure that termites are kept at bay. Post construction top up treatments should then be maintained at regular annual intervals to ensure maximum protection.

Soil Poisoning in Johannesburg -
Our treatment process...
Soil poisoning is one of the very first steps carried out during the construction process. Its absolutely crucial that this is done by a company registered with the South African Pest Control Association (SAPCA). Not only will this ensure the process is done correctly but will also mean a treatment certificate and guarantee is issued to you.
There are 2 main types of soil poisoning to fumigate for termites:
Repellent Termiticides
Repellent termiticides are most commonly used in pre-construction termite fumigation processes. We start by drilling holes around the foundations of the property, about 1 meter apart. Termiticides are then added to the soil which soaks the ground in termite poison. The termites will detect the poison and will not nest of invade past the ``barrier`` thats been created.
Non-Repellent Termiticides
When non-repellent termiticides are applied to perimeter of a property, the termites are unable to detect that the soil has been treated. Since they will not avoid the area, the termites will unknowingly make contact with the active poison and will die as a result.
Treating termites is a complex procedure and should only be carried out by licenced, fully trained pest controllers who can safely deploy the correct pesticides in line with current codes of practice and environmental restrictions.
Johannesburg Soil Poisoning FAQ
Construction termite control can be quite complex. You should always seek advice from a licenced pest controller. We've answered a few frequently asked questions below. For more a more in depth chat, get in touch and speak with a member of our team.
Is soil poisoning a legal requirement?
South African National Standards (SANS) 10400 refers to soil poisoning and the treatment of subterranean termites in buildings. Its a requirement stipulated by the South African government and forms part of a strict building code. Its not necessarily a legal requirement so to speak but may cause you problems later down the line when trying to get sign off for a new building if you cannot produce the relevant certificates.
How long does soil poisoning last?
In general, soil poisoning is guaranteed to last up to 5 years. Some companies may claim to offer 10 year guarantees however, you should pay close attention the exact terms and conditions in this case. We always recommend a termite inspection once a year and a top up treatment for added longevity.
How much does soil poisoning cost?
Soil poisoning prices vary from project to project and are usually determined on the size of the plot and the size of the building being constructed. We usually work on price per square meter (ppm2) and you should contact us for a full quotation breakdown. All quotes are offered free of charge.
Do you issue a termite certificate?
Yes. All our treatments come with a full certificate stating the process applied and the duration of the guarantee. You may be required to submit your certificate to a building inspector or any prospective buyer of the property.