Microbial Fogging & Deep
Cleaning Services
Johannesburg
Disinfection & Sanitising
Services
COVID-19 has brought with it an ever growing need for large scale deep cleaning services in Johannesburg. Many would be cleaning companies in Gauteng now claim to offer some form of sanitising and disinfecting services with of course the promise of certain antiviral properties or protection against Coronavirus.
In truth, many of these companies will fall short of their promises. Large scale disinfecting requires the use of microbial fogging and specialist antiviral cleaning chemicals that are not widely available. Termicon is a licenced Pest Control specialist and as such, has over 20 years experience in antiviral disinfection and deep cleaning.
Our deep cleaning and disinfection services conform to South African SABS / SANS codes of practice for the distribution of powerful cleaning agents in confined spaces. Our team are fully trained and experienced specialists who understand how to fully disinfect surfaces, walls, floors and furniture. Call Termicon today for more advice on COVID-19 antiviral cleaning solutions.
Antiviral Microbial Cleaning
COVID-19 Control
Termicon provides high level disinfection control to assist with Covid-19 (coronavirus) containment measures in shops, restaurants, offices and workplaces. Our state of the art microbial fogging services allows us to clean, disinfect and sanitise all in one treatment. We can cover large areas in a very short space of time with proven results and added antiviral protection.
Benoni, Boksburg, Alberton, Randburg, Sandton, Fourways, Sunninghill, Bryanston, Midrand, Waterfall, Kyalami, Kempton Park
For a fast, FREE quotation call 087 551 0558
Antiviral Disinfection & Deep Cleaning
Termicon have been in the business of deep cleaning and antiviral disinfecting long before COVID-19 shocked the world. Talk to the real experts about your sanitisation requirements.
21 Years Experience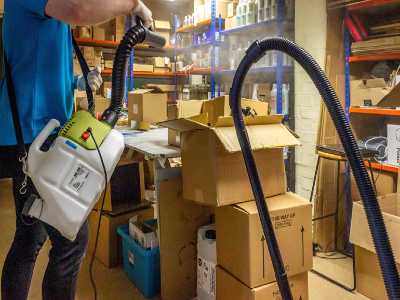 Office & Commercial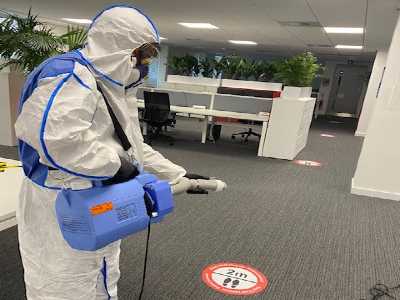 COVID-19 Compliant
How to properly clean and disinfect
during the COVID-19 pandemic?
Keeping a clean home or workplace is essential during times of a worldwide pandemic such as the novel coronavirus (COVID-19). Aside from regularly washing your hands and keeping an acceptable social distance from other people, there are steps you should take to ensure your home is kept clean, especially if you regularly have visitors.
Use chemical disinfectants safely
Always be sure to follow manufacturers instructions carefully and use all cleaning chemicals in well ventilated areas. Gloves should also be warn when dealing with corrosive or irritant cleaning products.
Cleaning soft surfaces
For surfaces such as rugs, carpets, drapes and upholstery, clean the surface using soap and hot water or an approved disinfectant for the type of fabric. Steam cleaning is also a highly effective antiviral sterilisation process.
Work surfaces
Use an appropriate disinfectant or diluted bleach solution to wipe all surfaces regularly paying particular attention to areas where food is prepared or consumed.
Door handles, railings & stairs
Again, the appropriate solution should be used to make sure all traffic areas and items that are touched regularly are wiped down with a disinfectant solution.
Different types of Deep
Cleaning in Johannesburg...
From an industrial perspective, larger areas are harder and far more time consuming to clean manually. The 2 most common commercial deep cleaning processes are microbial fogging and steam cleaning. Both methods allow the fast, effective disinfecting of germs and bacterial and have great antiviral properties which aid in the fight against the spread of infectious diseases.
Microbial Cleaning & Fogging
Using disinfectant sprays has long been a popular deep cleaning method used by professionals. Its allows for fast and effective cleaning of larger areas, in particular office or commercial spaces. We recommend using this method only in well ventilated areas and outdoors.
Steam Cleaning
Using high pressured steam is a great way to clean and lift stubborn dirt and grease. Due to the high heat, this method is also great at killing germs and harmful bacteria. We find steam cleaning most effective in commercial kitchens and bathrooms where the high pressure has the ability to remove stubborn built up dirt, limescale and mould.
Disinfectant Spraying
We make sure of industrial grade disinfectants that are diluted, pressurised and sprayed over surfaces such as desks, work tops, doors and stair rails. Any commercial area which receives high traffic can benefit from regular disinfecting to keep harmful germs and bacteria at bay.
Our clients include...
Schools and Educational facilities
Restaurants & Eateries
Hotels & Hotel Catering
Commercial offices & workplaces
Public & Private recreational facilities
Warehouses & Industrial storage