Professional Termite Control Alberton
Termite & Pest Control Solutions in Alberton
Termicon provides comprehensive Termite Control in Alberton including industrial soil poisoning and Termite prevention solutions to the construction industry. With over 21 years experience, we are industry leaders in deploying rapid Termite Fumigation to homes and businesses in Alberton and throughout the Johannesburg and Gauteng regions.
As a leading specialist in exterminating pests and wood destroying insects, Termicon is well known for its fast and effective Termite control solutions to successfully treat any infestation before it becomes costly. Extensive termite damage can be extremely dangerous to the structural integrity of a building and can cost tens of thousands of Rand to repair. Get ahead of your issues and call Termicon today on 087 551 0558.
A typical standard treatment plan comes with either a 5 or 10 year treatment certificate and is backed by Termicon's service guarantee.
Termite Proofing & Control
Trust TERMICON
100's of construction companies, businesses and home owners across Alberton trust TERMICON to deliver certified Pest Control treatments as part of their annual maintenance plans. Our tried and tested methods coupled with the latest in technology mean we treat your Termite issues fast, first time!
Homes, Construction Sites, Businesses, Housing Projects, Schools, Recreational Facilities, Shopping Malls, Sports Stadiums
For a fast, FREE quotation call 087 551 0558
Pre-Construction Soil Poisoning Services
Termite treatment is one of the most important steps in the building process. Make sure your up to code and contact TERMICON today. We're highly rated as one of the best soil poisoning companies in Alberton.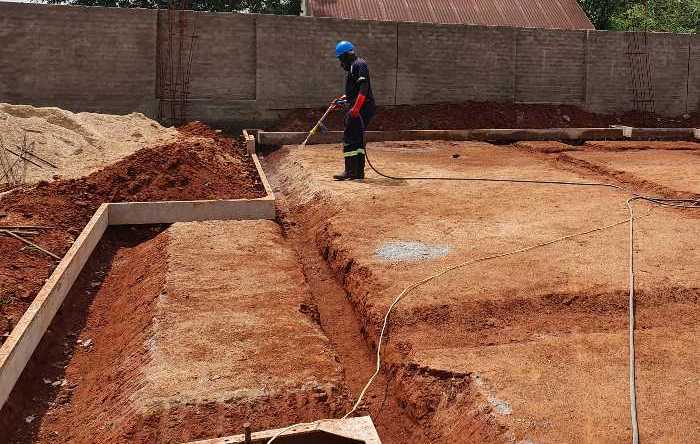 21 Years Experience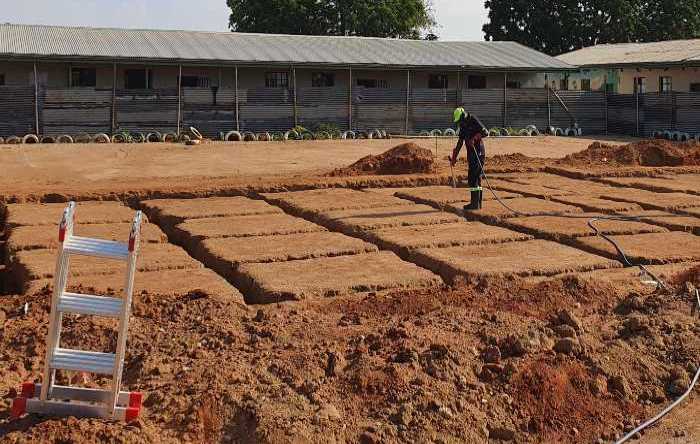 19,000+ Completed Projects
When is Termite Fumigation
required?
Termite control is usually split into two categories. Pre construction and post construction. Whereas pre construction termite proofing is a preventative measure, post construction is more of a treatment. Termite control Alberton should be applied at both stages. In South Africa, its compulsory to perform soil poisoning on the foundations of a building before construction starts.
If you think you may have termites at home, you'll want to act fast. Letting a termite infestation go untreated could end up costing you some serious money in repairs. Identifying the type of termites that you have and the their entry point will be key to determining the best and most appropriate course of treatment.
Your Termicon specialist will be able to provide you with a step by step treatment plan and any follow up appointments that may be necessary to ensure your home or business remains termite proof.
Why use TERMICON?
19 years industry experience
over 19,000 successfully completed projects
Registered with Department of Agriculture (Act.36/1947)
SANS 5859 / SABS 0124 & 1164 & 1165 Compliant
BEE Level 2 Compliant
Pre & Post construction soil poisoning treatments
Our Recent Works in Alberton
Private Residences | Construction Sites | Complexes & Estates | Housing Projects| Schools | Local Governments
Recreational Facilities | Shopping Malls | Sports Stadiums | Hospitals | Road Upgrades | Airfields
Alberton Termite Fumigation FAQ
Termite fumigation can be complex and should always be performed by licenced pest controller. Check out some of our FAQ's below and for more information, get in touch and speak with a member of our team.
How long does Termite Treatment last?
Termite treatments on homes and businesses should be carried out once a year. Soil poisoning and pre-construction treatments usually last between 5 – 7 years. We always recommend a termite inspection once a year and a top up treatment for added longevity.
how much does termite treatment cost?
The average cost of Termite Treatment really depends on the severity of your issue. A serious termite issue may require more than one visit from your pest control specialist whereas a maintenance treatment can usually be completed in under 30 minutes. Expect to pay anywhere between R600 – R950.
Do I get a Termite Certificate?
Yes. All our termite treatments come with a certification which is valid for between 1 and 5 years depending on the type of treatment you received.
Is treating for Termites required by law?
While not the law, Its a requirement stipulated by the South African government and forms part of a strict building code. You may have issues later down the line when trying to get sign off for a new building if you cannot produce the relevant certificates to prove termite treatment has been completed to South African National Standards (SANS) 10400.